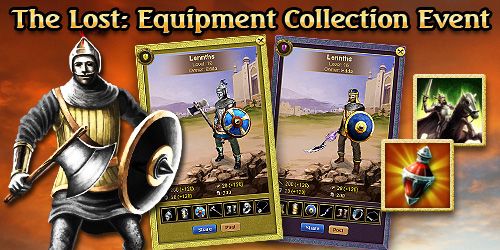 Here's a new way of rewarding our players through our summer's event '
The Lost: Unveiling the Past
', by simply collecting the limited edition hero equipment during this summer's event, a player can be rewarded in no time.
Players can collect any of the following equipment that will fully dress up their heroes.
A set of equipment assigned on a player's hero will be rewarded with
special item
.
Rewards:
Ultra Stimulants (+10000 Hero EXP)
Hero EXP Booster
Below is the list of equipment that a player can assign to their heroes to qualify for this event.
The Lost Equipment:
Mystic Mask
Cryptic Armet
Mystic Scale
Cryptic Raiment
Blue Shield
Hazy Shield
The Arcane Sword
The Arcane Axe
Agile Boots
Mysterious Boots
Vampiric Ring
Ring of the Skeleton King
Vampiric Necklace
Skeleton King's Amulet
Event Mechanics:
1.
Equip
your hero with any set of the following equipment available for 'The Lost' event.
2.
Share
the hero card on Uprising Empires' Fan's page.
3. Rewards will be given out via in-game message.
HOW CAN I GET MY HERO CARD?
Get your the Hero Card by clicking on your Hero's Menu. Then find the hero card on the upper right side of the hero's menu pop up window. Click it and a new window tab will be open.
HOW DO I SHARE MY HERO CARD?
Once you have got the Hero Card, all you need to do is to click the "Share" button on the lower part of the card.
Then once done, there will be 2 types of pop up. First type is the pop up on adding the Uprising Empires on your Facebook Account. Just click the "Play Game" button and the link will be shared on your Facebook account.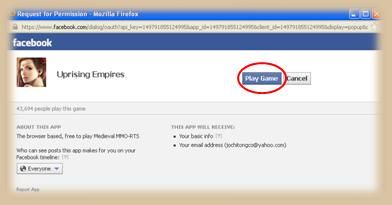 The second type is the pop where you have done adding the Uprising Empires apps to your Facebook. All you need to do is click the "Share" button and it's all set on your Facebook account.
Share your hero card directly to Uprising Empires' Fan's Page
Once you have successfully posted the hero card link on your Facebook account, all you need to do is to click on it.
Then a pop up window tab will be opened, copy and paste the link from the address bar

Then, find "Uprising Empires" on Facebook and post the link of your hero card and hit "share".

NOTE:
Any means of sharing the hero card is applicable, as long as the image of the unit card is shown and is equipped with the event items. You may capture the hero card and save in .jpg format and directly upload it to our fan's page or share directly the upload hero card photo from your Facebook.
** This event is valid until

August 29, 2012
If you have any questions/clarification regarding this event, you may contact our support team via email
support@uprisingempires.com
or send an in-game chat message to Game Moderator.